JULES ARTWEAR
Beads on Leather
Original Jewelry Designs
Created with Handcrafted Clay Beads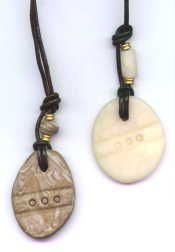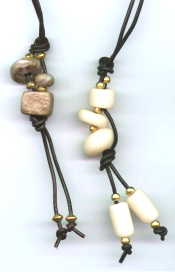 Item#NLPFLAT-Pendant Necklace-$15.00-A flat textured pendant in either beige or ivory. Piece is done with black leather thong accented with brass beads and finished with a brass clasp. Measures approximately 24".
Item#NLPBEAD-Pendant Necklace-$18.00 for three bead style shown in beige. The five bead style shown in ivory is $20.00. Both styles are done with black leather thong and brass bead accents. This design has no clasp and measures approximately 28".
---
There are a number of other jewelry designs made with leather thong including a choker necklace, bracelet and earrings. As soon as the pieces are ready for scanning this page will be updated so check back often.
---